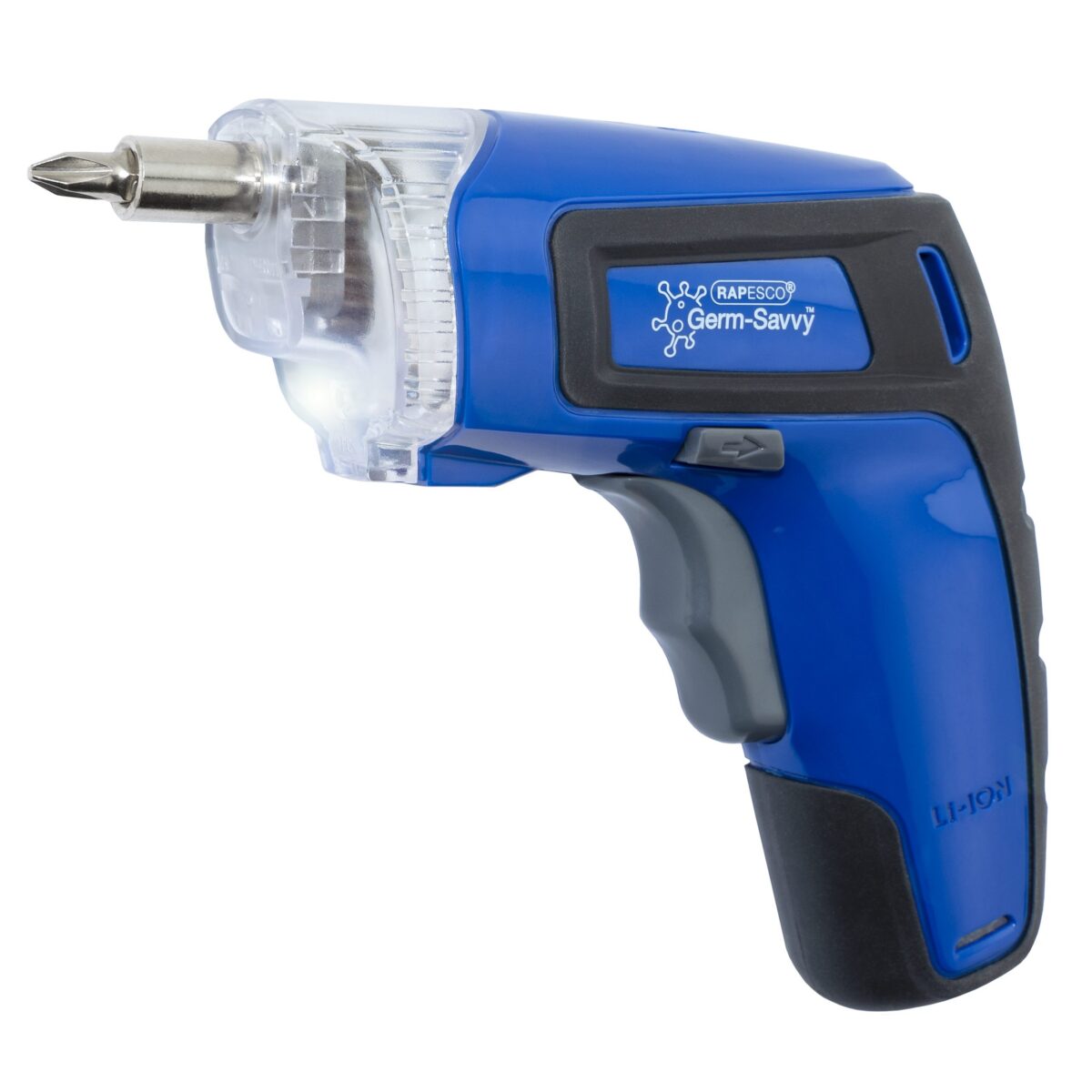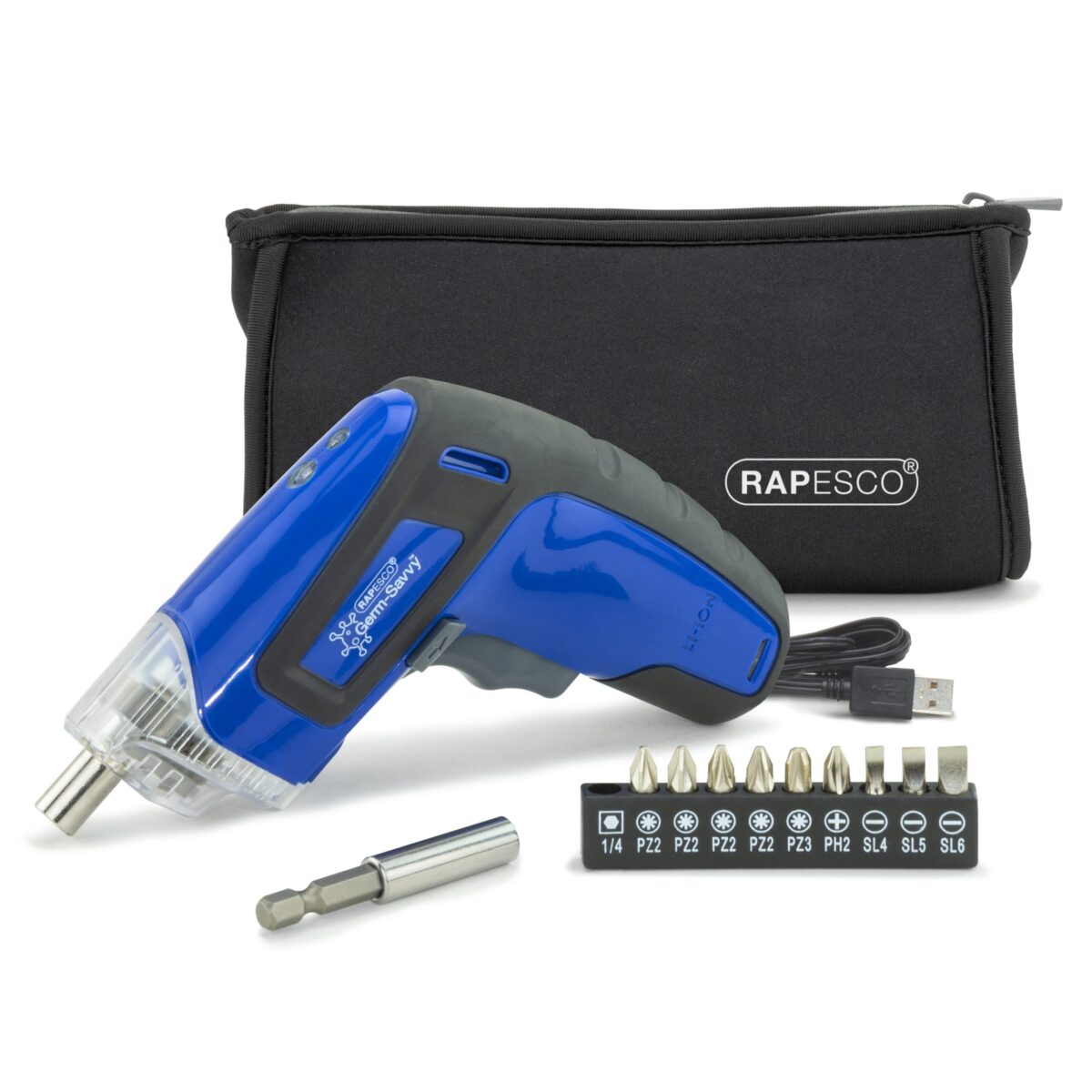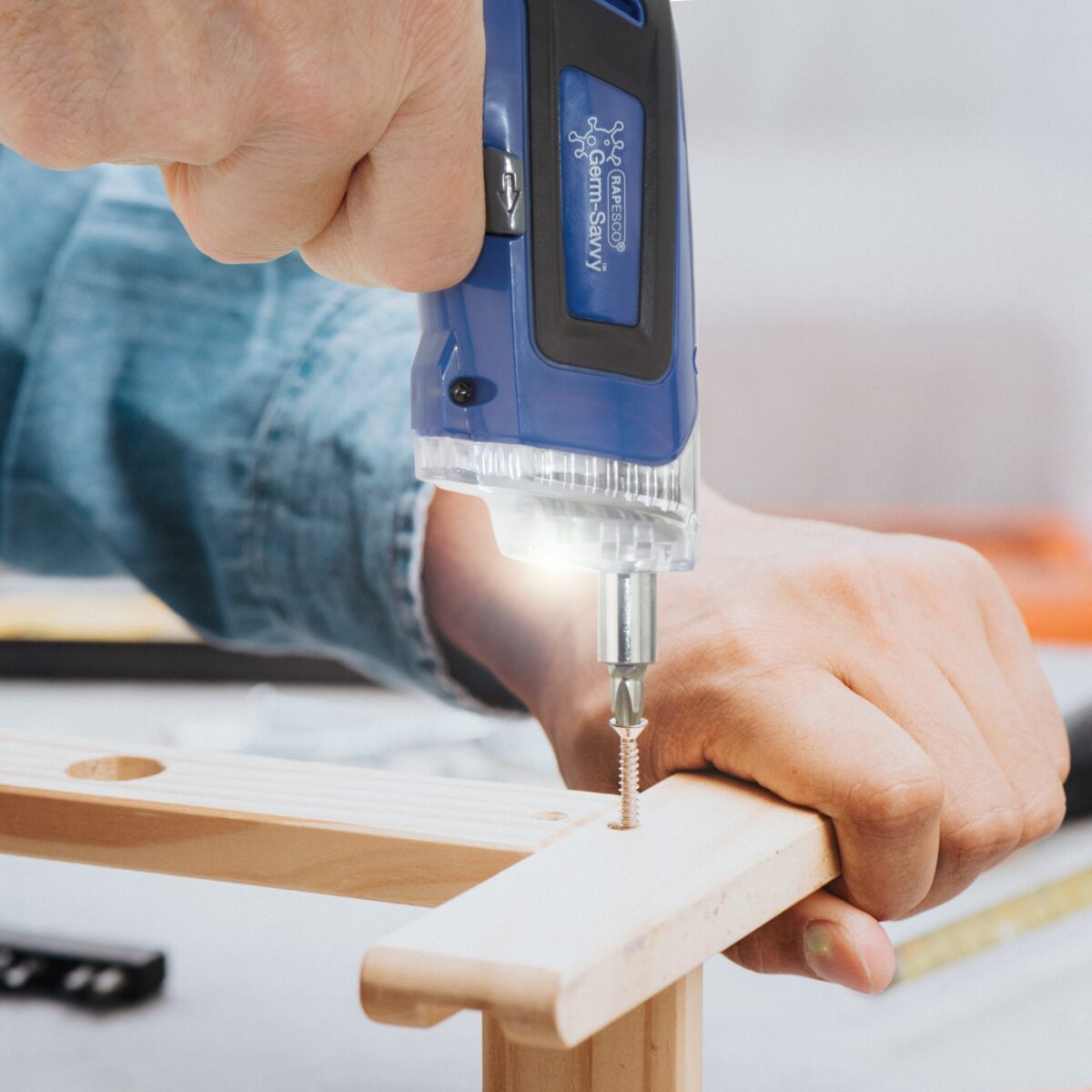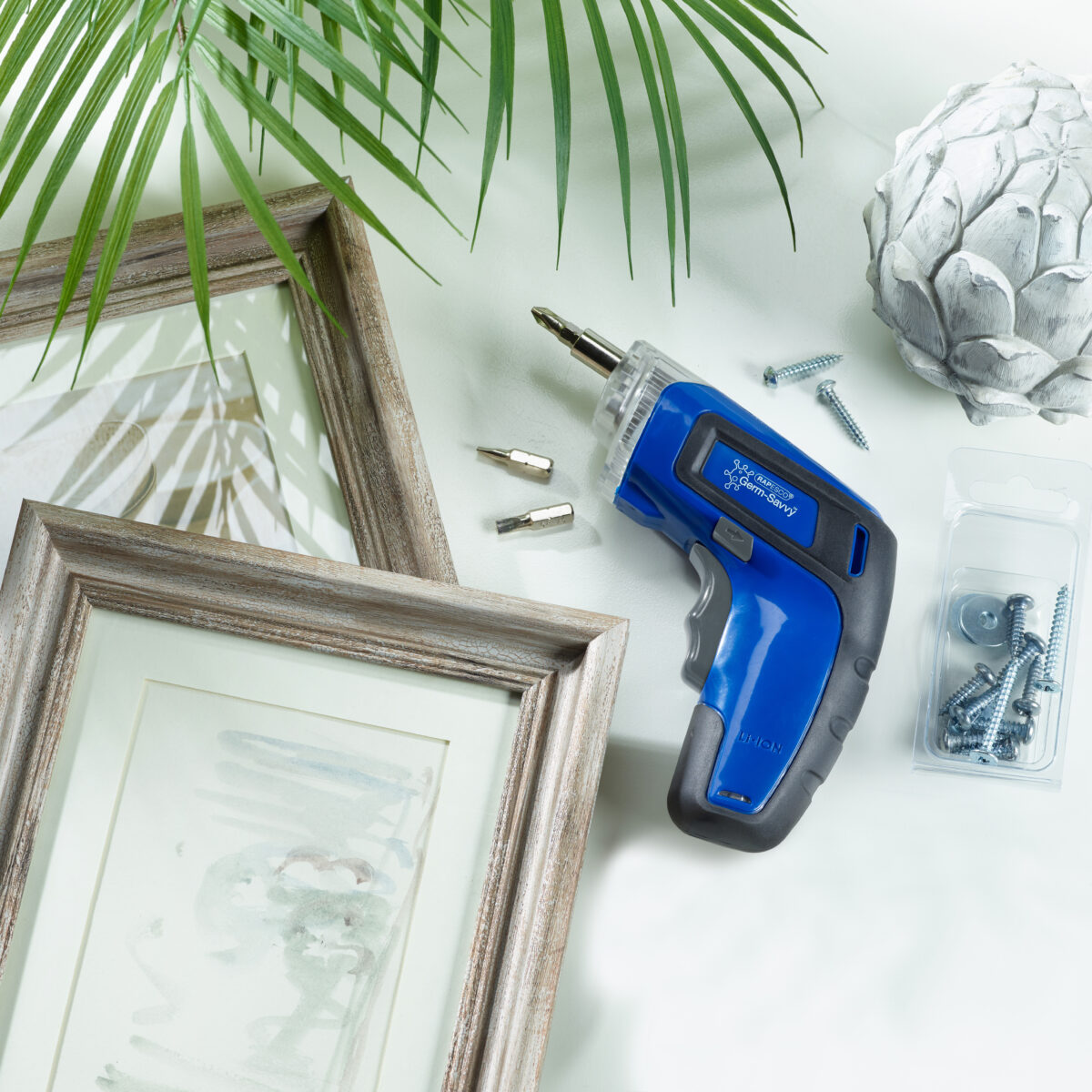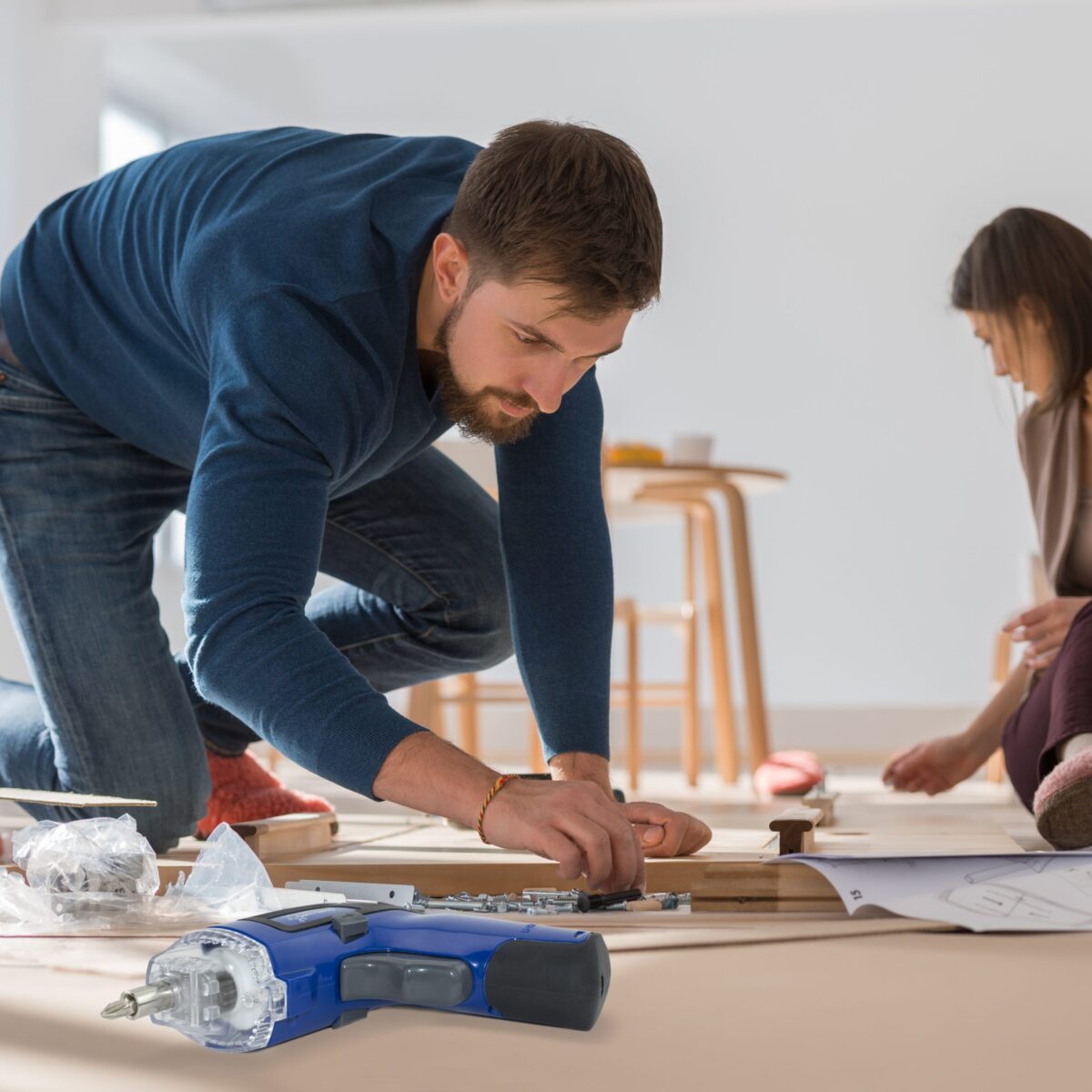 Germ-Savvy® Antibacterial Cordless Screwdriver 3.6V – Blue
The 3.6V Cordless Screwdriver from Rapesco is a compact, handy tool featuring our special Germ-Savvy® antibacterial agent, which offers protection against bacteria. Boasting a rotation direction switch for both loosening and tightening screws, a magnetic bit holder to keep screw bits securely in place, and a rotation lock which prevents the tool from activating when not in use, this practical cordless screwdriver is designed with safety in mind. Also features LED lights to indicate the driving direction and illuminate the work area. This cordless screwdriver is conveniently supplied in a neoprene storage bag with 9 popular screw bits, a magnetic extension bit adapter and a USB charging cable for the integrated 3.6V lithium-ion battery.
Easy-to-use cordless screwdriver with built-in Germ-Savvy® antibacterial protection
Simple rotation direction switch for tightening and loosening of screws with handy LEDs to indicate the direction the tool is driving
Features a magnetic bit holder, LED work light and rotation lock so the tool cannot be accidentally activated when not in use
Integrated 3.6V lithium-ion battery, rechargeable via USB
Comes supplied with a neoprene storage bag, 9 x popular screw bits, 1 x magnetic extension bit adapter and a USB charging cable
Warum Rapesco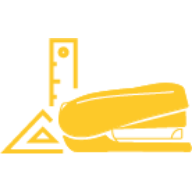 Design
Wir stellen Büroprodukte mit genau durchdachtem Design her, die in puncto Leistung, Innovation und Langlebigkeit neue Maßstäbe setzen.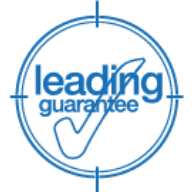 Qualität
Wir streben unermüdlich nach neuen höheren Leistungsstandards und sorgen so für eine lange Lebensdauer unserer Produkte. Wir sind stolz darauf, eine branchenführende Garantie anbieten zu können.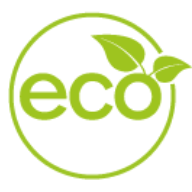 ECO
ECO ist mehr als nur eine Verbesserung unserer Produkte, es wird zu unserem neuen Standard. Zudem suchen wir ständig nach mehr und neuen Möglichkeiten zur Ressourcenschonung, zur Wiederverwendung und zum Recycling.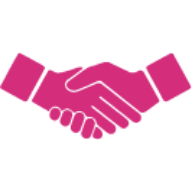 Vertrauen
Rapesco ist seit fast 70 Jahren international bekannt und stolz darauf, eine zuverlässige Marke zu sein, der unsere Kunden vertrauen.